Love & Unity Songlyrics Book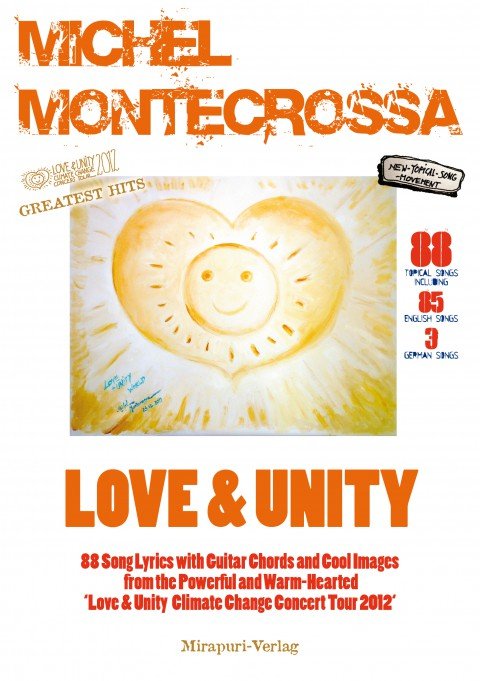 88 Song Lyrics with Guitar Chords, Cool Images, Paintings and Drawings from Michel Montecrossa's powerful and warm-hearted 'Love & Unity Climate Change Concert Tour 2012'
The 'Love & Unity' book presents 88 song lyrics from Michel Montecrossa's powerful and warm-hearted Love & Unity Climate Change Concert Tour 2012. Each song is featured with easy to learn guitar chord-progressions.
Michel Montecrossa says:
"The 'Love & Unity' New-Topical-Songs are consciousness-building stimulations that are transporting the values of the true, the right and the vast. They stand for high ethics and bring it to the streets. They stand for the living celebration of humanity and the life of happy generations embraced by the warmth of love on a united earth. They stand for safe homes where mothers and fathers together with their children of hope can live and look towards a prosperous future of peace, progress and fulfillment.
They are 88 New-Topical-Songs singing: 'The Solution is found in Human Unity.' They are documenting history as it unfolds and look beyond the present into the beauty of a future that we could reach if we only would want it.
They are meant to do their good work in the stream of media, on the marketplace and at home.
The 'Love & Unity' book and Audio-CD box are presenting 85 English songs and 3 German songs."
'Love & Unity' is a poetic masterpiece of songwriting by Michel Montecrossa, one of the 21st century's greatest musician-artist.
'Love & Unity' unfolds its powerful and warm-hearted message on 240 pages with 88 song lyrics, cool images, paintings, drawings, concert posters and guitar chords.
The 'Love & Unity' song lyrics book goes along with the 'Love & Unity' 6 CD-Box presenting the recordings of all 88 New-Topical-Songs performed by Michel Montecrossa for listening and singing along.
(240 pages, English, softcover)